New Patients at
Advantage Health Center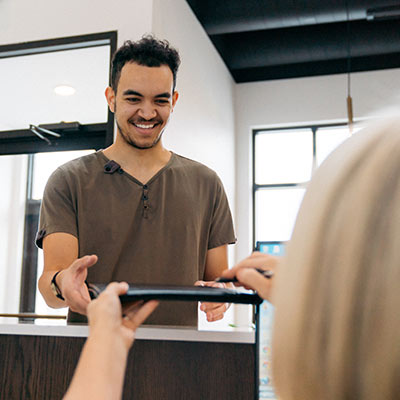 Advantage Health Center is a relaxed, energetic and fun place with an open floor plan. You'll see people of all ages at our practice who are happy, smiling and enjoying the many benefits of our chiropractic care!
Discovery Day
At your first visit, we want to determine if this is the right place for you to be. You'll get a tour, meet our team and watch a brief introduction video that explains why our practice members get such incredible results. Then, you'll meet with Dr. Jeff for a consultation. We'll discuss what's brought you in and why you've chosen to get help today.
NEW PATIENT INTAKE FORMS »

Next, it's time to start our homework. We'll scan your body with advanced, neurology-based technology to identify any areas of problem. Then, we'll analyze your results to determine if your goals are attainable and if nerve interference is the cause.
We want to take some time to study your results and welcome you back for a follow-up if we've determined we can help you. Depending on whether you've completed your paperwork and brought it in with you completed, this visit takes 30-40 minutes.
Decision Day
When you return, you'll sit down with your chiropractor to discuss
The cause of your problem
How we can help
How long it'll take
What your investment in your health will be
The decision is then up to you: Are you ready to make a commitment and move forward? If not, we'll thank you for giving us the opportunity to show you what your life would be like with an advantage. If you choose to, you'll receive your first chiropractic adjustment. This appointment takes 20-30 minutes.
Following Up
At your regular visits, you'll be here for about five minutes to receive your adjustments. We'll check in with a progress examination every 12 adjustments to ensure that you're progressing, adapting your plan if required.
Many people wonder if they have to go to a chiropractor for the rest of their life once they start. Our practice members find that, similar to exercising regularly or brushing your teeth every day, chiropractic care can be used proactively to stay functioning at the highest possible levels. It can be incorporated into your lifestyle as a success strategy, rather than something you have to do.
Same-day appointments are available, and walk-in visitors are welcome to stop by. Schedule your time with our knowledgeable, caring team today!
CONTACT US »
---
New Patients at Advantage Health Center | (952) 492-3222