Advantage Health Center Reviews
What Our Jordan Patients Say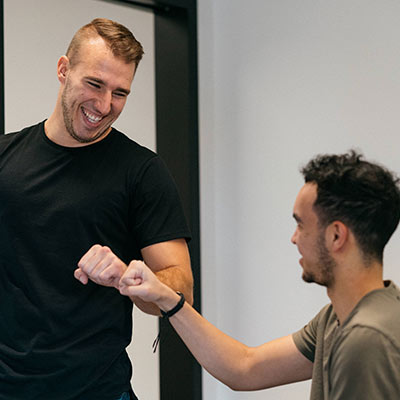 At Advantage Health Center we love when patients share with us their feedback and comments after chiropractic care. Please read our patient testimonials below to see what other people have achieved through their tailored treatment plans with us.
Share your stories too! Send us your feedback so that we can help to spread the word about the benefits of natural Advantage Health Center care.
For more information or to schedule an appointment contact us today.
---
Felt Welcomed
Dr. Jeff and team have been amazing! When I went in for my consult, it was a no pressure type of approach – they figured out a plan for me and let me decide if I wanted to move forward. I am glad I did – I am feeling better already! They make you feel very welcomed every time you walk in the door!
– Tracey G.
Highly Recommend
I've been a patient of Dr. Jeff May's for last last 4-5 years. His gentle monthly adjustments have always kept my headaches away. Now I'm receiving stem cell treatments on my knee due to an injury/surgery 5 years ago. This is my second treatment and already I feel relief. I plan on doing all 6 that are recommended a week apart. Patients have had much success with this machine! He's a progressive chiropractor soon to be adding additional treatments for his patients. I highly recommend this clinic.
– Marlene M.
Much Improvement
Dr. Jeff and the Advantage Team have done so much to improve and maintain the health of our family! Solutions for every health issue we've thrown at them. Can't thank them enough!
– Nicole W.
Great Place!
Great place! Great & uplifting atmosphere! Dr May really know his stuff! Fixed my sciatic nerve problem and is helping me stay pain-free.
– Connie S.
Awesome Job
Dr Jeff and his staff do an awesome job of helping both me and my wife going with our active lives.
– Christopher S.
Very Impressed
Saw Dr. May last week for the first time. Very impressed with him and his team. Not only adjusted my back and hips but my sinuses as well and I am breathing better than I have in years. Started the weight loss program too. I am down five pounds already! Thank you Dr Jeff and team for investing in my health!
– Kathy K.
Thank you Team!
They are great with kids. My 10 month old son was always sick, digressive issues as a baby that lead to him sitting up on his own really late and had ear infections. Was suppose to see the nose throat and ear clinic kept playing phone tag. Took him here got a scan told the Doc our issues. Doc Jeff said he will NOT need ear tubes and they can help with his issues. He hasn't had one ear infection senses, started standing after 3 appointments. Rarely ever sick only had to have one added adjustment to help him get over a cold always recovers 2 days after his adjustment all issues are gone we couldn't be happier with his health. I had family members who were skeptical of my choice but are now so happy for us on our discussion and see his huge improvements. He ended up walking early. Only down fall is they do not deal with insurance much but I use my FHSA account and you cant put a price on good health. More then likely he still would have had physical delay developments and stomach issues that could have given him a delay in learning. Been going for a year in a half now can't remember the last time I had to give him medicine or go to the doctor other then his check ups. Thank you team!
– Emily D.
Genuinely Care
My family and I have been going to Total Health Advantage for months now and they are the best. The crew is very friendly and you can tell they genuinely care about your health and well-being.
– Delia G.
---
Advantage Health Center Reviews | (952) 492-3222