Meet Dr. Tyler Ukkelberg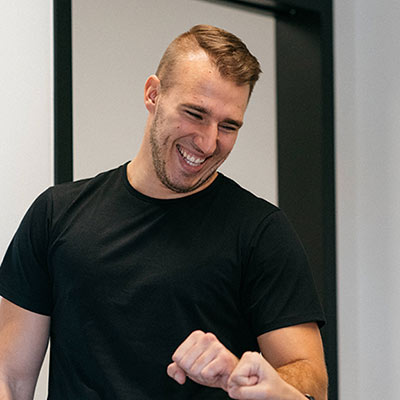 Growing up in small-town, north central Minnesota, Dr. Tyler spent much of his time engaged in basketball, football, golf, baseball, and other sporting events. This is what would ultimately lead to his first experience with chiropractic.
After a significant ankle injury left him on crutches, Dr. Tyler went to his local chiropractor to see if he could help. After two visits he was off the crutches, back on the field, and fascinated by what chiropractic had to offer.
This led Dr. Tyler to pursue an Exercise Science degree at the University of Minnesota, Morris and then continue on to Northwestern Health Sciences University to obtain his Doctor of Chiropractic degree. During school he spent much of his free time continuing to learn anything and everything he could about what chiropractic had to offer and how he could best help future patients. This included attending seminars on weekends to improve chiropractic skills and become proficient in things like kinesiotaping, nerve flossing, and cupping techniques.
From Intern to Associate
He also spent as much time as possible shadowing and learning from other chiropractors; this includes Dr. Jeff! Dr. Tyler spent his last summer in chiropractic school interning at Advantage Health Center and tried to learn as much as possible from Dr. Jeff in that time.
EXPLORE OUR SERVICES »
Outside the Office
When he's not at the office you can find Dr. Tyler staying active, playing basketball and volleyball, golfing, and spending summer weekends on the lake! Contact Advantage Health Center today to schedule an appointment.

---
Dr. Tyler Ukkelberg | (952) 492-3222